Bringing the Green Planet to life
Factory 42
Year
2021 - Present
Sector
TV & film production, live events
Year
2021 - Present
Sector
TV & film production, live events
When it comes to pushing the boundaries, Factory 42 are leaders and innovators in their field, using their experience and know-how to blend tech and real-life experiences seamlessly. Being the geeks that we are, we love it when a client comes to us with something a little techy, and Factory 42 never fails to disappoint.
Factory 42 are a team of "immersive storytellers", who specialise in blending and fusing technology and in-person and live experiences to great effect. We've had the privilege of working with them on two projects now, the first being a mixed-reality theatre experience named Lost Origin, which propelled the audience into an immersive and all-encompassing performance. The second being an event in conjunction with BBC Studios, that used augmented reality powered by EE's 5G network to transport people into five diverse and distinct and visually enhanced worlds, including Rainforest, Freshwater, Saltwater, Desert, and seasonal biomes.
Design and development of TheGreenPlanetExperience.co.uk

Customised and developed the ticketing system in conjunction with TicketTailor, along with ensuring that this would withstand high demand

Hosting through a combination of AWS, Cloudflare, and Queue-It

Design and development of HTML email invitations to be used with a 3rd party email marketing tool

Full compliance with multiple stakeholders brand guidelines and IT/Data requirements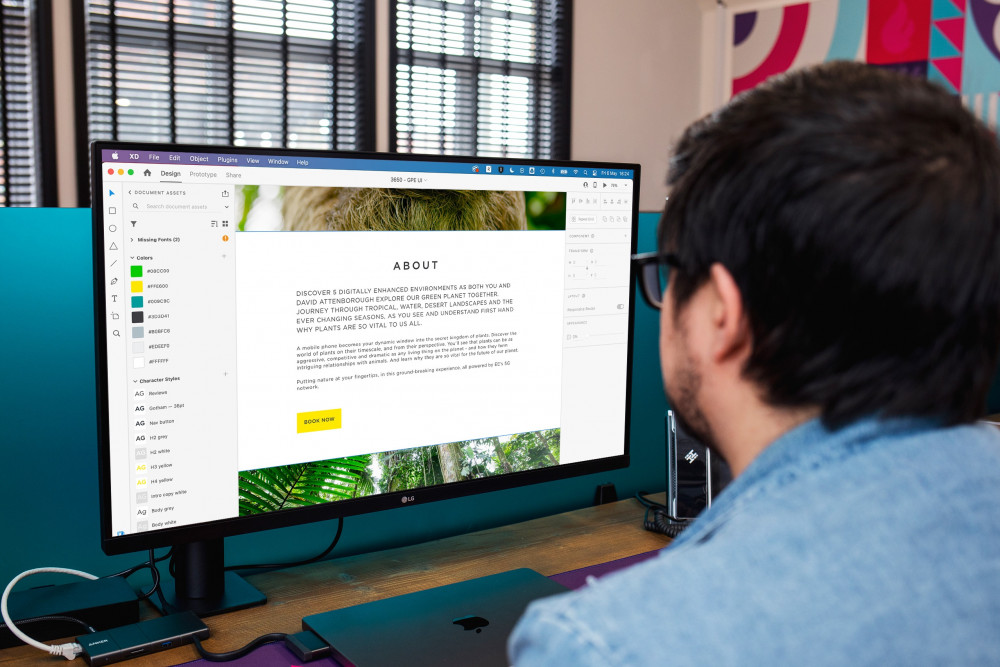 What we achieved
On the face of it, the website for The Green Planet AR Experience was a relatively simple one. However, beneath the surface there was quite a lot of work to do with a very tight turnaround time for completion. This immovable deadline was set to coincide with a comprehensive media and PR campaign, so we needed to ensure that we delivered on time and that the site was suitably load tested, in preparation of the highly anticipated site traffic.
6 weeks from initiation to launch
We originally spoke with Factory 42 about this project at the end of November, with a completion date of the 1st week of January… plenty of time, without the Christmas break throwing a pretty big and beautifully wrapped spanner in the works.
41,500 visits within the first 6 hours
To ensure that the site was able to withstand high demand, we used a combination of AWS hosting with Cloudflare and Queue-It, to ensure that if the server capacity was reached, visitors would be placed in an orderly queue to ensure that they never experienced any downtime.
4 x ticket releases sold out in minutes
Due to the nature of the project and people's love of the BBC's The Green Planet TV series, there was an expectation of the site having some pretty high traffic. To guarantee that the ticketing system would be up to the task at hand, we worked closely with TicketTailor to ensure that nothing was left to chance.
Are you looking for something like this?
We'd love to discuss how we would be able to lend our expertise to your next project. Get in touch for an informal chat about how we can make this a reality.