Shining a spotlight on the hidden heroes of theatre
Freelancers in the dark
As creatives ourselves, we love the opportunity to shine a light on other creative industries. The impact of the pandemic on the theatre industry has been monumental. Theatres were closed en-masse for the first time since the Blitz, and the industry faced a crisis that cast great uncertainty over its future.
Deliverables
Brochure/report
Page layout and design
Typography
Image sourcing
Image manipulation
Freelancers in the Dark is a project based at the University of Essex East 15 School of Acting. Conducted in partnership with Manchester Metropolitan University and Queen's University Belfast, the project investigates the social, cultural and economic consequences of the COVID-19 pandemic on independent arts workers in the UK.
East 15 contacted us in March 2022. They had produced their final report and wanted to present their 2-year research project in a way that was visually appealing, accessible and reflected the creative industry that the findings were about.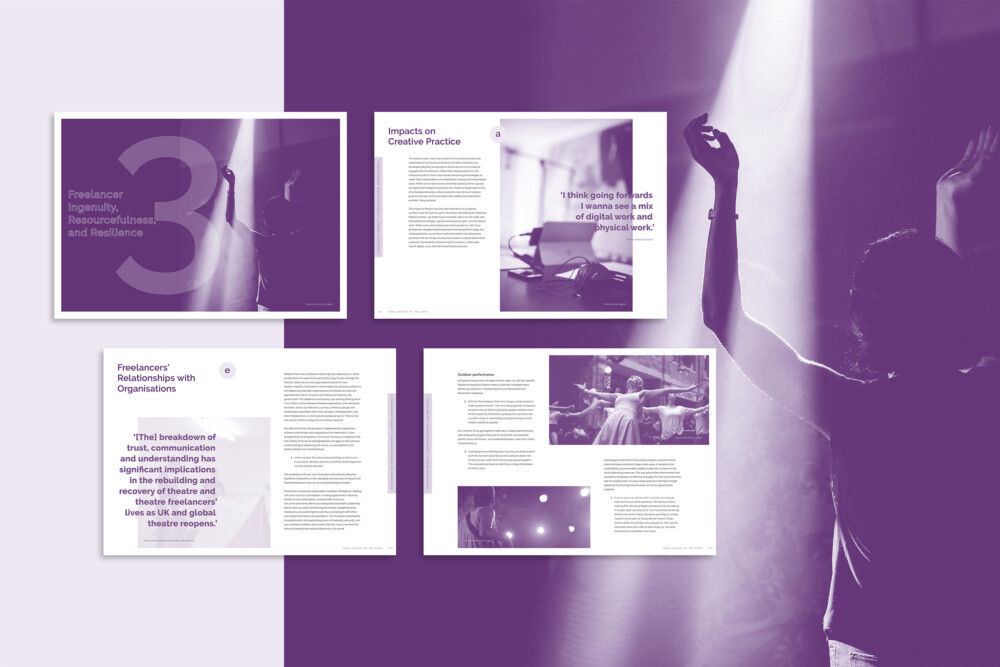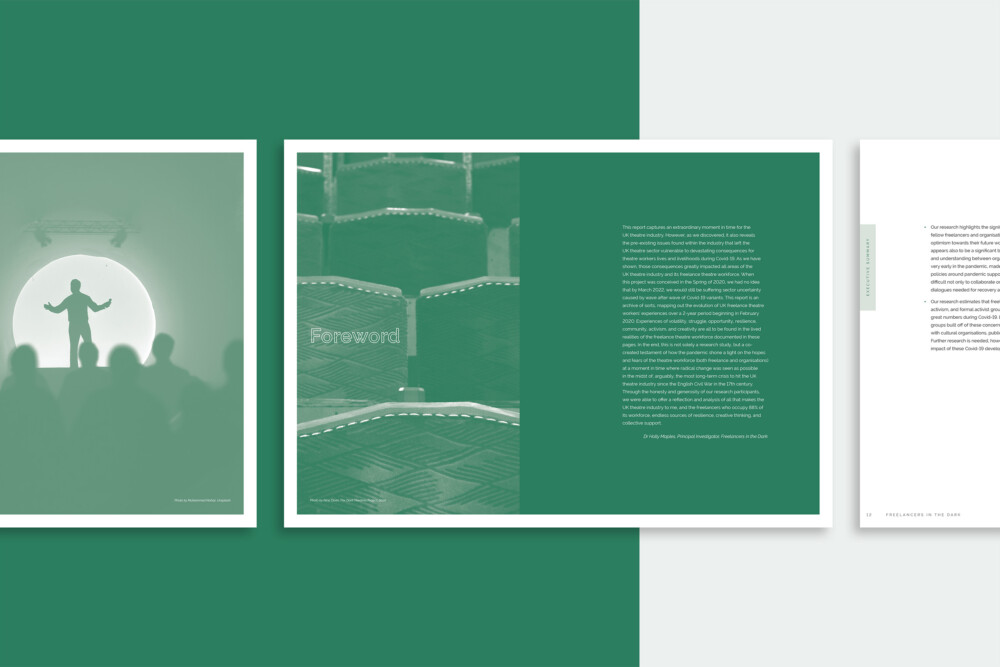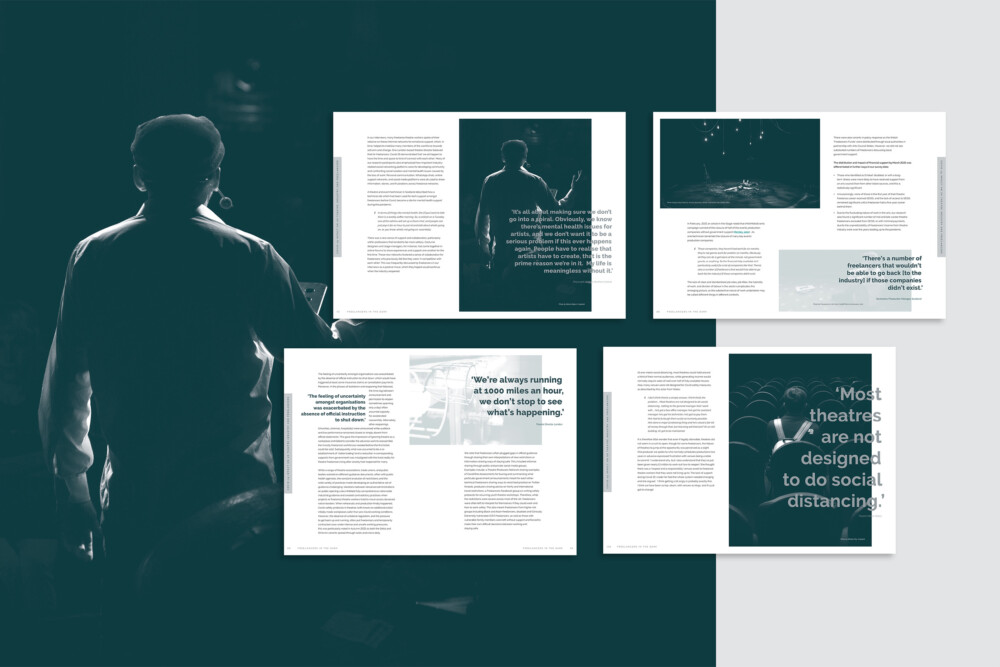 We were given a lot of creative freedom with this report and so we started by developing colour palettes and an overall look and feel for the digital document. This project was delivered on time and under budget with a rapid turnaround. The report is available for all to see on the Freelancers in the Dark website.
We decided on a monotone theme throughout, making each section of the report distinctive with its own colour. We converted each image to make them monochromatic and then applied a colour value to the images to support this vision.
Some of the photography was supplied to us by East 15, this meant that the images were particularly relevant to the content of the report. To ensure that the report was as visually enticing as possible, we built on the images provided with some additions from Unsplash. Making use of Unsplash was particularly relevant to this project as it is a free photography library featuring images from a broad range of freelancers. We were sure to credit each photographer against their images and felt proud to showcase their work alongside the first-person accounts of the pandemic from freelancers.
Accessibility was a big consideration of this project. The report highlighted the lack of concern over accessibility for marginalised groups in the theatre industry and so it was important that the findings were in an accessible format. We ensured that the report was in a single column to make it readable. Additionally, we chose a clean font that was easy to read and ensured type was of a decent size throughout.
The typeset for the title was intentionally tightly packed. This was to convey the pressure that freelancers faced during the pandemic. By doing this, we were able to unite the design with the content.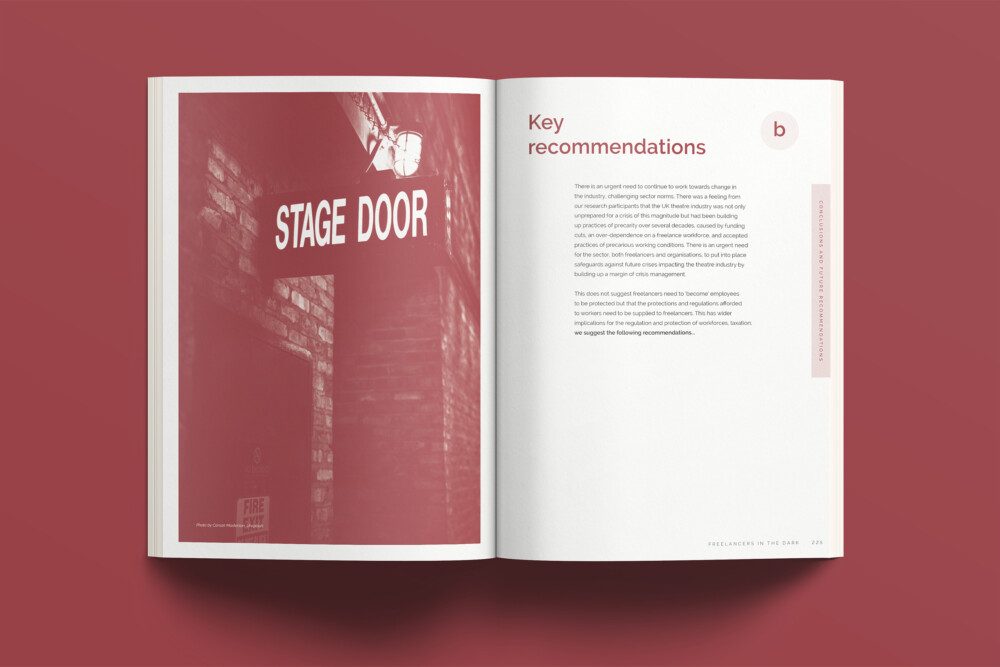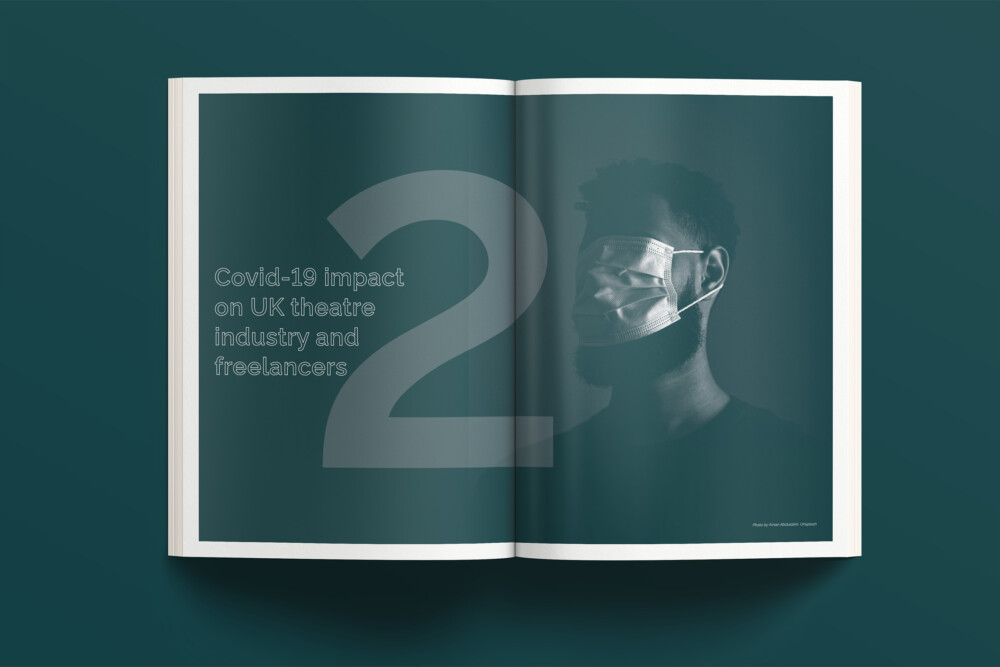 Interested?
We'd love to discuss how we would be able to lend our expertise to your next project. Get in touch for an informal chat about how we can make this a reality.