Building a platform for a global giant
McKinsey & Company
McKinsey & Company is a management consulting firm. Their guidance influences the world's leading companies and they are firmly situated as global giants in the world of consultancy.
McKinsey & Company's Operations team approached us looking for a solution for web conferencing that allows them to have full governance over the registration process and creates a user-friendly way to track events, communicate with registrants and deliver impactful event experiences.
Requirements
A unique and branded events portal
Engage audiences via polls and Q&A
Link relevant McKinsey insights to each event
Provide key attendee metrics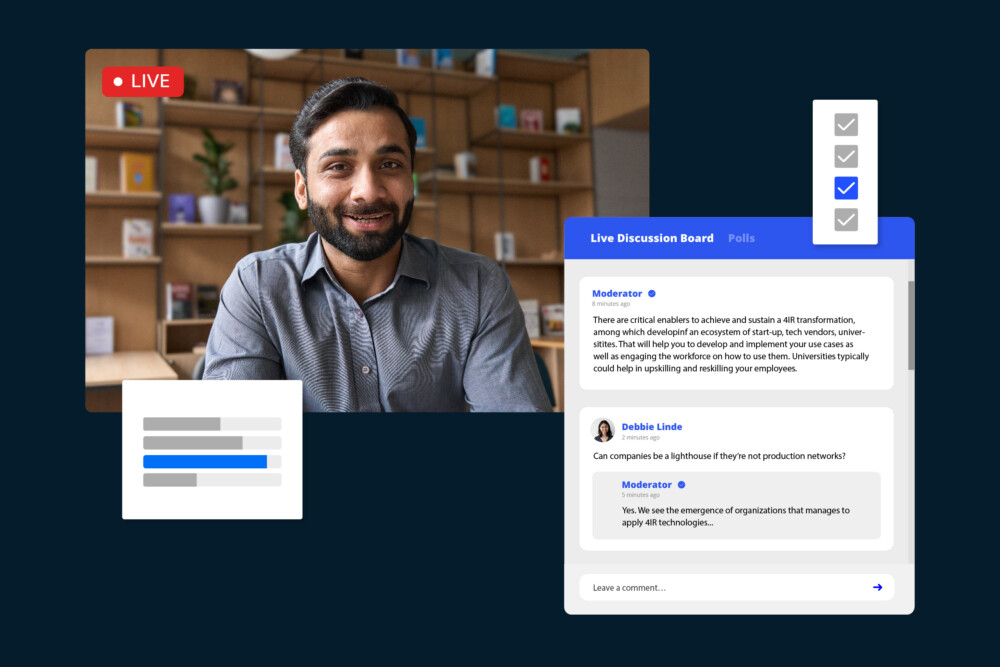 Creating a reportable and uniquely branded event platform.
Previously, McKinsey's operations team had been relying on a combination of off-the-shelf packages for event registration, registrant communication and event delivery. This meant that accurately tracking the success of their event marketing efforts was an admin-heavy feat.
By creating McKinseyTalksOperations.com, we gave McKinsey the ability to advertise their own events in a branded environment, directly communicate with registrants and collect insightful data on the entire process.
Responsible Reporting
The expression "data is king" is certainly true for firms such as McKinsey, being able to crunch the numbers from each event was a crucial feature of the platform. Our platform provided McKinsey with key insights into their delegates and processed the data in a secure and compliant manner. By creating one platform to replace the many packages the team had previously relied upon, their processes were streamlined and data could safely stay in one place. UX – mobile optimisation
Improving the user experience for their delegates was a key objective of the project. We ensured that users could interact with the platform on mobile, desktop and tablet devices and have a seamless experience on any device. Adding in features such as a "jump to" menu on mobile allows smartphone users to navigate each event page intuitively. Insights and Information
To allow the platform to be a comprehensive information source for McKinsey events, the event listings needed to convey a variety of types of information in an interesting way. Each event page can feature videos, speaker bios and relevant insights alongside the agenda. To avoid duplicating information,  the platform pulls in podcasts, articles and blog posts from the main McKinsey site. By linking each event from the main site, the user experiences a seamless journey from McKinseyTalksOperations.com back to McKinsey.com. An established identity
Our design team worked with McKinsey's comprehensive brand guidelines to create a site that echoes the main McKinsey website, McKinsey.com. The site allowed each event to have its own branded page to advertise the agenda, the panelists and insights relevant to that particular event. Each event had a unique registration form to collect information pertinent to that event. The designers wanted to design the site in a way that created synergy between the two sites so that a user could navigate from one to the other and feel confident that they were in the right place.
Beyond virtual events
In addition to using the platform for webinars, the registration process is built to be flexible. This allows McKinsey to use the platform for in-person events, from advertising them, managing the registration process to communicating information about accommodation and transport with delegates. With the expectation being that virtual and hybrid events are here to stay, having the flexibility to manage any type of event through the platform equips McKinsey with a future-proof tool.
What is Symposy?
Symposy is our purpose-built virtual events platform. Designed and developed by our team of in-house digital experts and utilising decades of live event experience, it is the ultimate platform for any company looking for flexibility, sustainability, and peace of mind. Symposy is built to be scalable, meaning that whether you have 50 virtual delegates or 5,000, you can rest assured that your attendees will have the same impactful experience. Looking for end-to-end event delivery?
We utilise decades of event production experience alongside our flair for design and technical know-how to create bespoke event solutions for industry-leading clients. If you find yourself juggling multiple off-the-shelf packages to deliver your events, get in touch to see how we can help.