Refreshing NIG's brand identity
NIG
Year
2019 - Present
Sector
Insurance
Year
2019 - Present
Sector
Insurance
NIG is a commercial insurance group that works with 2,200 insurance brokers. You may not be immediately aware of the name, but NIG are part of Direct Line Group, whose brands include Direct Line, Green Flag and Churchill.
We were introduced to NIG through a referral from an existing client, which lead to NIG tasking us with delivering a complete rebrand. As a sector leader, it was crucial that their new brand elevated their image amongst their competitors but maintained the familiarity and trust that their existing branding had established.
NIG's previous branding featured lots of illustrations which were potentially undermining their leading position in the market by depicting NIG as playful rather than the progressive, professional impression that NIG wanted to achieve. Overall, NIG's branding needed realigning with their vision and purpose.
Market research
Brand strategy
Brand design
Branding workshops
Brand guidelines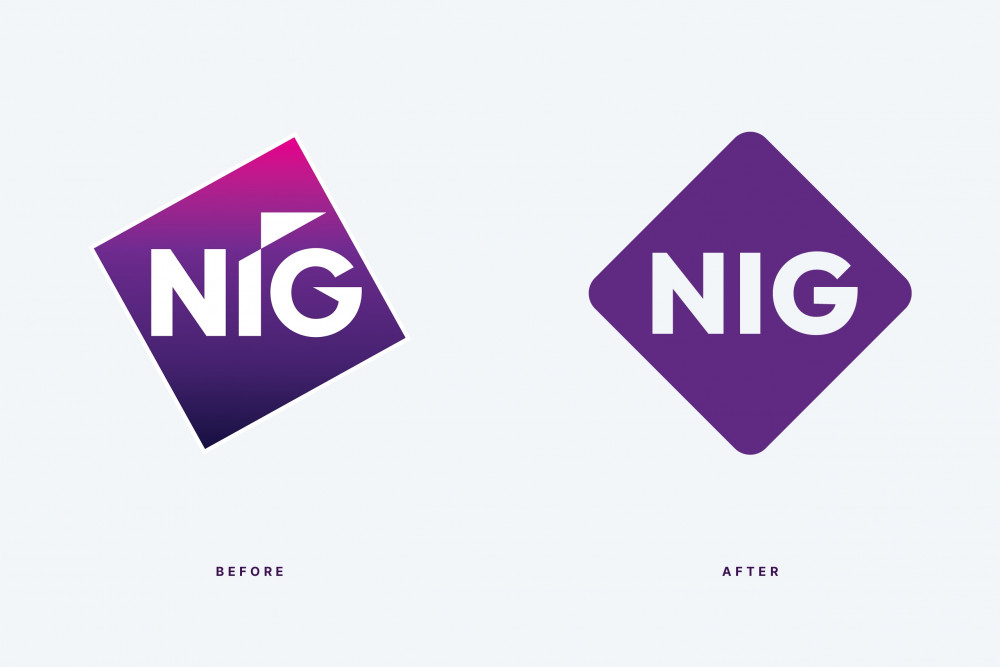 What we achieved
To move NIG's brand in the right direction, we conducted extensive research both internally with NIG employees and senior leadership team and externally, surveying a representative cross-section of brokers to gauge the market position of NIG's existing brand and identify opportunities to upgrade it.
We worked closely with market research firm Trinity McQueen and conducted qualitative surveys, inviting participants to offer their opinions on NIG's branding. The results found that NIG's logo, whilst recognisable, did not emulate as much credibility and sophistication as the logos of NIG's competitors. The qualitative research was followed by a quantitative analysis of NIG's competitors.
To move away from the current brand's playful perception, the new brand guidelines stipulate a cleaner and more professional look, with the use of candid images of real people to highlight NIG's authenticity. The previous logo was a rhombus that leant to one side. By redesigning the logo with equal sides and rounded corners, we were able to present a balanced logo, perfect for emulating stability and confidence, whilst appearing softer and more approachable. After in-depth discussions involving colour theory, the decision was made to keep NIG's purple, a standout colour in the black and blue world of insurance.
At the centre of our approach to capturing NIG's brand heart was our brand workshops. We conducted four workshops with NIG employees at all levels of the organisation. We first delivered Brand Core sessions, within which we established the purpose, vision, mission and values of NIG. The aim of these sessions was to capture 'What NIG say'. The second stage in the process was our Brand Communication sessions, which focused on 'How NIG say it'. These sessions were all about the messaging, personality and voice of the business. From these sessions, our design team developed a creative brief consisting of two distinct paths, from which our initial concepts were drawn.
Although the project eventually evolved into a brand refresh instead of a full rebrand (due to results from the research phase), we initially created four concepts that were based on careful analysis of the research that had been conducted, with each concept having many iterations that were weighted towards different attributes. We wanted the logo to maintain its rhombus shape for brand recognition and its representation of NIG's personality as a knowledgeable and reliable insurance company. In pursuit of creating the perfect logo, we explored hundreds of different styles and combinations.
Unveiled to 8,306 professionals
NIG unveiled their new branding at BIBA22, a major insurance conference attended by over five thousand brokers and thousands more industry professionals. Displaying the NIG branding on signage, exhibition stands and stationery alongside their competitors was the ultimate way to launch a reinvigorated brand. NIG's people-driven message stood out amongst the 215 stands.
Are you looking for something like this?
We'd love to discuss how we would be able to lend our expertise to your next project. Get in touch for an informal chat about how we can make this a reality.