Blue sky thinking for innovative printing service
Blue Sky Printing
Year
2020 - Present
Sector
Printing
Year
2020 - Present
Sector
Printing
Blue Sky Printing are an independent printing company, who provide their customers with a comprehensive and high-quality range of printing solutions.
What sets Blue Sky Printing apart is their first-class customer service, which goes hand-in-hand with their high-quality product range. They pride themselves on going the extra mile for their customers and in delivering a professional service on time, each and every time.
We were first approached by Blue Sky Printing to create a new page for their website, to enable them to showcase their new Wall Art service. Alongside taking a look at their overall brand identity, to create more consistency across the board.
It turned out that this was a bit of a test, which we're pleased to say turned into a full branding and website rebuild.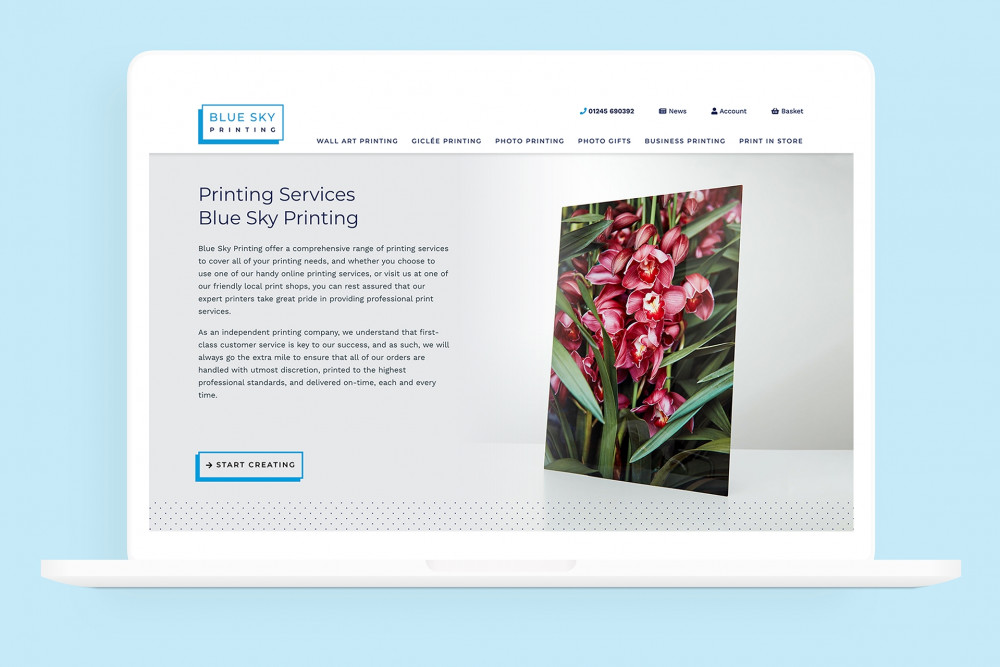 Paint a perfect picture
We started by wireframing their new Wall Art page and developing some logo concepts that we would develop further with the client. These explored a range of image-focused logos, alongside a selection of contemporary fonts.
With this we took the opportunity of creating some stylescapes, to help finetune the direction that the rebrand would take.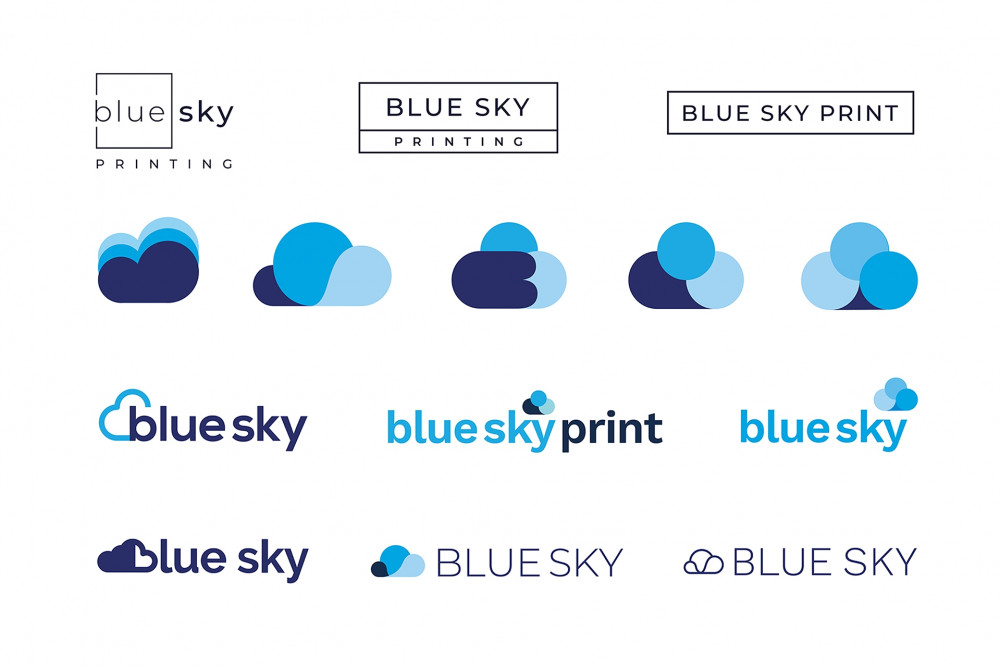 Minimalistic design
Throughout the website, uppercase fonts were used to lift the brand and make it look more contemporary, while at the same time create a feeling of sophistication.
This simplicity was incorporated into the logo itself, which was framed as if it is a piece of artwork. In addition to this, we then added a shadow to imply it was being hung. The shadow styling is also carried throughout the site by being applied to buttons in the UI.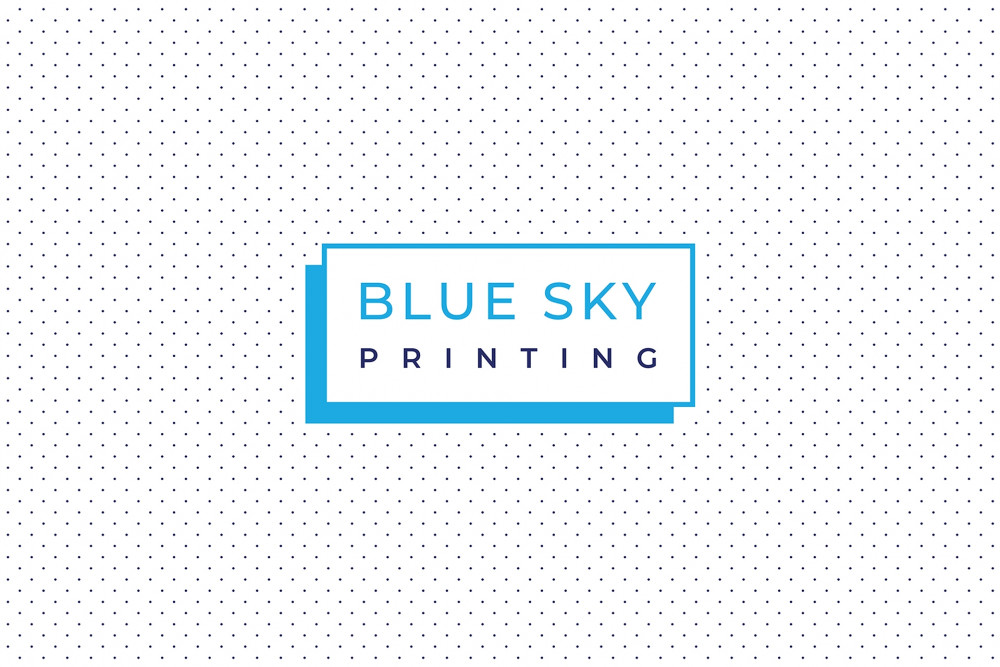 Contemporary styling
A series of bespoke icons were created for use throughout the site, which built upon the minimalistic and contemporary design that was being applied throughout.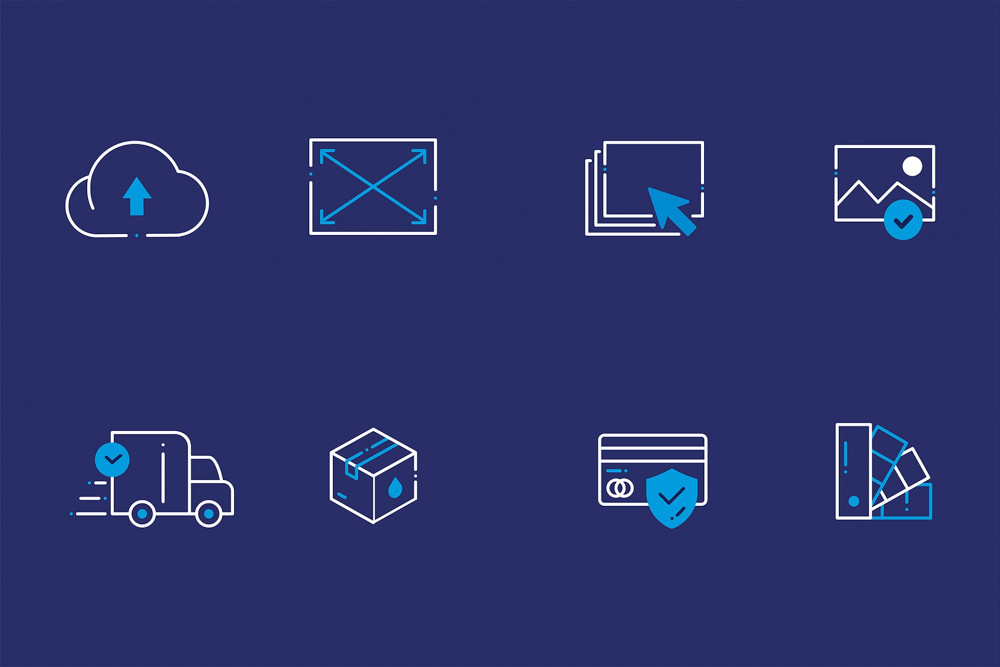 Developing a seamless experience
Developing the perfect way for users to create their customised artwork, proved to be quite challenging.
One of the complexities of this was when integrating a customised WordPress plugin that was built in Vue, that we then needed to mesh and work with WooCommerce.
This important integration was necessary to help take the customer through the steps of creating their custom artwork and then to provide a seamless experience while at the checkout.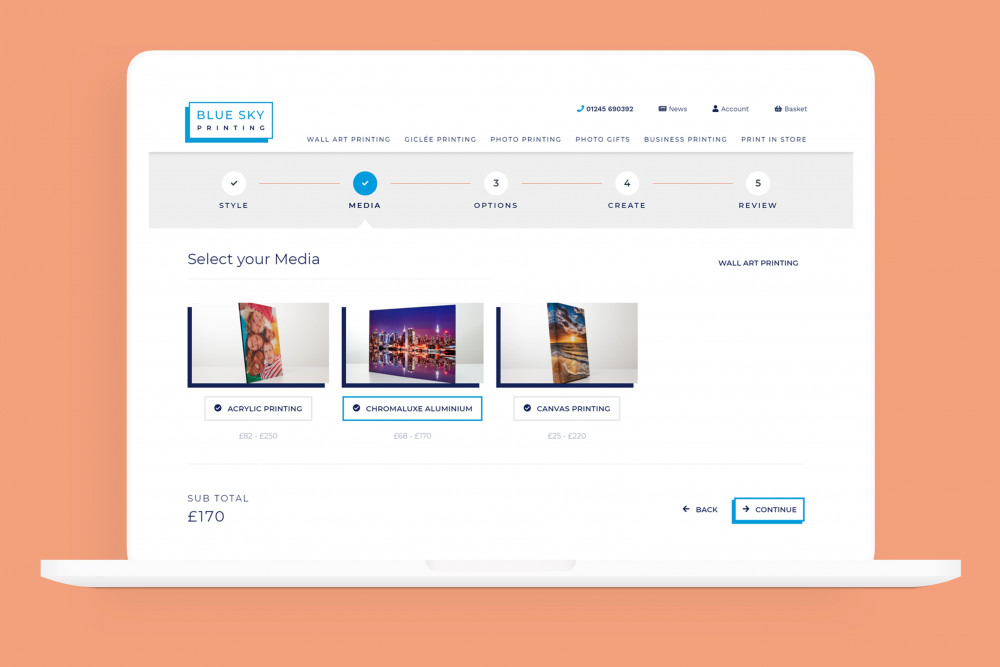 Customised shopping basket
We pushed the boundaries when it came to the custom styling of the shopping basket and checkout.
By moving away from the standard Woocommerce layout, we were able to give Blue Sky Printing something that was as unique to them, as the artwork that they were creating for their customers and that suited their new brand style.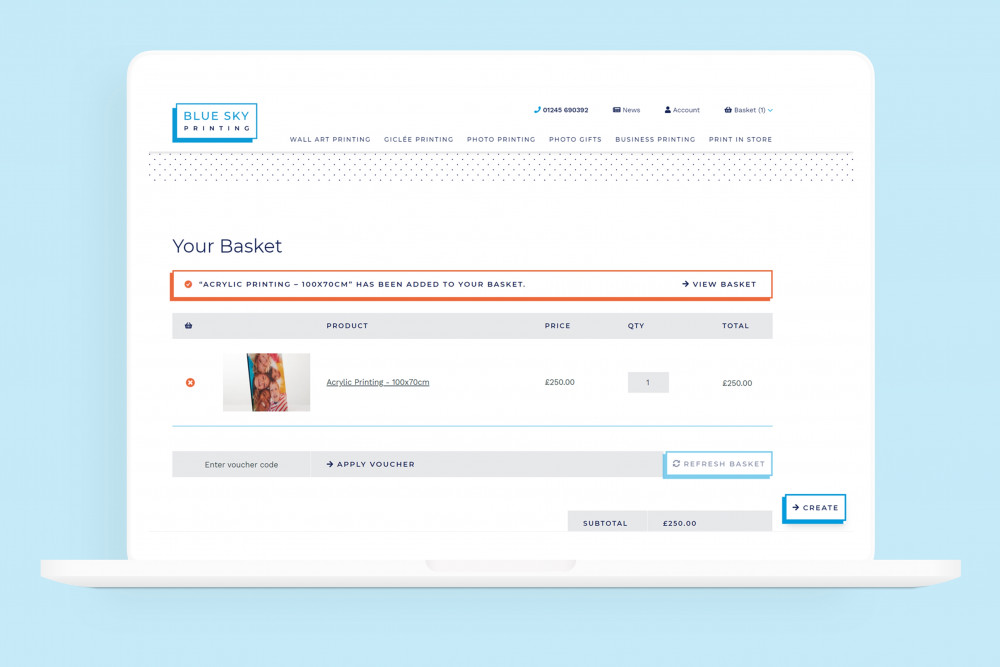 Full flexibility
The site was built with flexibility in mind, providing Blue Sky Printing with more than 20 different flexible modules to play with, when it came to building and customising the layout of a page.
This gives the client full control of what's needed get the look and feel that they're trying to achieve for the given content.